Long, luscious eyelashes are a girl's best friend. For that reason, magnetic lashes are all the rage. These easy, glue-free lash enhancements give glamorous length and volume.
However, most come in just one shade — black — and if you have naturally light eyelashes, tinting them may help them blend in with your extensions. Dark mascara is one way to darken your lashes, but it isn't the only way.
If you prefer a more natural, clump-free alternative – without getting your lashes professionally tinted at the salon – there are many other ways to tint your lashes at home. And here's how to grow your eyelashes.
Here are five ways to tint your lashes right at home:
1. Henna
This dark dye is extracted from a tree known as mignonette. Used traditionally for body art in areas of South Asia, North Africa, and the Arabian Peninsula, henna body art is well-known by people all over the world. Mehndi tattoos are often seen on hands and feet, but this dye is also an effective way to color hair – and eyelashes.
2. Gel Eyeliner
Most makeup brands now carry gel eyeliners in a variety of colors to match the natural tone of your eyelashes. The longest lasting gel eyeliners are smudge-proof, waterproof, and brush-on cream liners. Gel eyeliner can be used to (temporarily) color your lashes, though the effect will certainly wash off. It's a great quick fix!
3. Brow Pencils
When push comes to shove, these pencils can be made into a spreadable paste. Just break off the tip of the brow pencil that matches your color tone, and mix it together with water for a DIY eyelash tint. Again, as with the gel eyeliner, the coloring effects to your lashes are only temporary.
4. Eyelash Tinting Kit
Go easy on yourself with a complete DIY eyelash tinting kit! They're available online, but you can easily make them yourself. Add whatever you need to tint your lashes right in the comfort of your own home, like dye or tea and an applicator brush.
Applying Your Eyelash Tint
Before you tint your eyelashes, gather the supplies you'll need.
Dye of your choice
Water (for dilution)
Beeswax or petroleum jelly
Cotton swabs
Saline solution
Small to medium glass mixing bowl
A clean and dry mascara wand
How to Apply a DIY Eyelash Tint
To make sure the tint stays off your skin and eyes, and on your lashes, you may want to invite a friend to tint your eyelashes for you.
Remove all of your makeup, and carefully clean away any lingering grime or debris from your eye area. You'll want to start with a totally clean slate.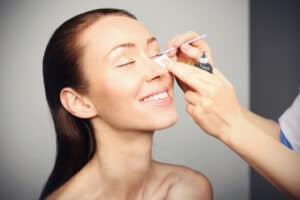 1. Place a small amount of the dye of your choice into the mixing bowl. Then stir in purified drinking water, a few drops at a time, blending together until the mixture becomes a thick paste.
2. Dab petroleum jelly around your delicate eye area to avoid staining the skin.
3. Roll the cotton swabs in the mixture at the ends to make application easy.
4. Apply the mixture to your bottom lashes first, working the dye from tip to root. After you finish your bottom lashes, you can apply the solution to your top lashes.
5. Allow the mixture to set for 5-10 minutes. This will give the dye plenty of time to penetrate through your lashes. Then, remove the mixture and dab lashes dry, to remove lingering water.
6. Pull the clean mascara wand through your lashes to remove any clumps of the dye. Then repeat steps 1-5 on the other eye.
Tinting Lashes at Home – It's Time
Today, with the emerging lash and brow studios popping up just about everywhere, the eyelash tint is oh-so in! But you don't have to pay the price for a lavish lash salon to get a lasting tint. Try these five DIY ways to tint your lashes at home. It's easy-peasy.
View this post on Instagram
Learn More:
How to Care for Your Natural Eyelashes
Do Eyelashes Grow Back?